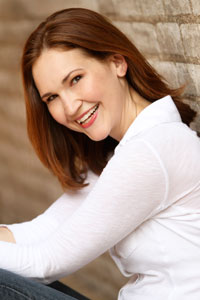 CANDY SIMMONS
Candy Simmons "Simmons's performance is chilling, a bit heartbreaking, and rarely less than fascinating." MINNEAPOLIS CITY PAGES
Candy Simmons is an actor, writer and producer currently working out of Minneapolis, MN and New York City. She founded SunsetGun Productions in late 2007. The first project SGP produced was AFTERLIFE, a now award-winning, one-woman show starring Candy that has toured across the US and Canada to critical acclaim. She's thrilled to present SCARLET WOMAN to US and Canadian audiences in 2011. She's currently developing a new multi-media solo work to be produced by SunsetGun in 2012. Candy received her BA in Theatre from Florida State University.
Credits include: AFTERLIFE (North American Tour); ENCHANTED APRIL (Theatre in the Round, Mpls); MOTHERING INSTINCT (The 92nd Street Y's Makor/Steinhardt Center & Emerging Artists Theater); DONNA PARADISE (Primary Stages); BREUCKELEN (Collective: Unconscious Theatre); TEMPEST (Carolinian Shakespeare Festival); COMEDY OF ERRORS; (Carolinian Shakespeare Festival); TOP GIRLS (Lab Theater); LAST DAYS OF THE DIXIE GIRL CAFÉ (Theater Southeast).
Artistic Director of SunsetGun Productions
www.candysimmons.com
sunsetgunproductions@gmail.com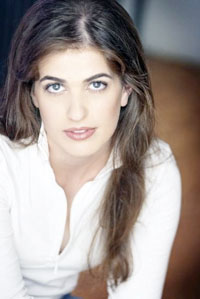 MEGAN HILL
Megan Hill "Hill gives a mesmerizing performance that is somehow equal parts silent pain and quivery-voiced jokes." NEW YORK PRESS
Megan is delighted to be joining SCARLET WOMAN. Credits include: LONESOME WINTER (Theater Under St. Marks); THIRST(Y) (Incubator Arts Project and Target Margin); FISSURES (Humana Festival, Actor's Theatre of Louisville); CHERRY CHERRY LEMON (North American Fringe Tour); LITTLE DOG LAUGHED (Intiman Theatre); SIN and HOLIDAYS UNCORKED (Bohemian Archaeology); STUPID KIDS (Empty Space Theatre); GLITTRA'S MISSION (Seattle Children's Theatre/Speeltheatre Holland); PRIDE AND PREJUDICE (Book-It Rep); SHAKESPEARE'S TOP TEN (Seattle Shakespeare Company), THE ROOM and GREY CITY (A.R.T. Institute). Megan holds a BFA from Cornish College of Arts and an MFA from American Repertory Theatre/Moscow Art Theatre Institute for Advanced Theatre Training at Harvard. Next up, Megan will be performing with Implied Violence at the Guggenheim as a part of the Works and Process Series curated by Robert Wilson.
Megan is involved with two resident Horse Trade companies, Little Lord and The Management. She is a company member with The Management, which just produced LONESOME WINTER. Megan co-wrote the piece with Joshua Conkel (MilkMilkLemonade) and also played the title character, Winter. With Little Lord, she is a part of a group of associate artists known as the Lads.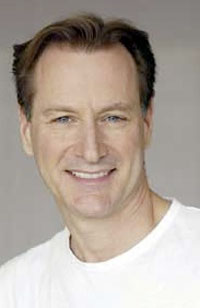 ROB O'NEILL
Rob O'Neill is a seasoned performer, choreographer, director, and teacher
in the New York theatre and dance community. In 1993, Rob began
creating and teaching his own system of physical training for actors,
called EMBODIMENT which combines his modern dance experience
with his acting training. He teaches this work at universities, retreats,
acting institutes, and diverse communities throughout the world. He is an
adjunct faculty member of New York University's Experimental Theatre
Wing (ETW) and teaches dance at the renowned Fieldston Ethical Culture
School.
Rob was a long time principal dancer with the Phyllis Lamhut
Dance Company. He also danced several years with Victoria
Marks Performance Company, and made guest appearances with
numerous modern dance choreographers including David Dorfman and
Kester/Creach. Rob toured Brazil with The Bond Street Theatre, he
performed at the Brooklyn Academy of Music (BAM) in THE POWER
PROJECT, a physical theatre work by Bob Berky, and performed with
DADAnewyorkDADA. He appeared in works of video artists James Byrne
and Jan Locketz. His training in dance is eclectic, with concentration
in Limon technique and the creative bloodline of Nikolais/Louis, Hanya
Holm and Mary Wigman. He has extensive acting training with Carol
Fox Prescott whose "Breath Work" has become an integral part of his
teaching, and has studied voice with Jonathan Hart Makwaia.
Rob brings his unique physical perspective to a wide range of theatre
projects. He worked with the late Joseph Chaikin, choreographing several
of his last original works-in-progress including, BODYpieces, at The Public
Theater, STILL ALIVE/TEASING TIME at The Mark Taper Forum New
Work Festival (LA), and THAT TUESDAY at The Actors Studio written
by Eduardo Machado. Recent movement direction and choreography for
plays include Judith Shakespeare's production of THE RAPE OF THE
LOCK and productions of the Chelsea Repertory Theatre Company.
Rob recently directed DINNER WITH FRIENDS, by Donald Margulies,
at the Michael Weller Theatre (NYC), two of Matthew Well's plays: THE
MILDRED PIECE (INCOACT) and DONNA PARADISE (The Double Helix
Theater Company). In 2008, Rob co-founded Embodiment Productions. www.embodimentworkshops.org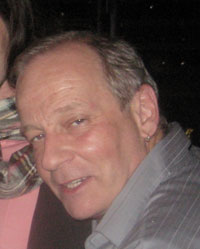 MATTHEW WELLS
Matthew Wells A native of the Boston area, Matthew is a prolific New York City-based
writer. Produced plays include: GOD'S COUNTRY, performed as part of
the Charlotte Rep's 1988 New Playwrights Festival, and later produced
Off-Off Broadway at Theatre Club Funambules on Ludlow Street in
February 1990; THE GOOSE GIRL, done in Los Angeles at the Theatre
of N.O.T.E. in May 1990; THE MILDRED PIECE, produced by InCoAct
at Musical Theatre Works in November 1991; DON JUAN IN HELL'S
KITCHEN, done in New York by Ariel Theatre Company in August of
1993 and in Virginia by Tapestry Theatre Co. in June 2002; WILDEST
DREAMS (Lightning Strikes, March 1994); THE AUSCHWITZ CIRCUS (A
Theatre Co, July 1995); and TIME'S UNKNOWN (Echo Repertory Theatre
Co., July 2000).
As for this century, his play about Oscar Wilde, OSCAR AND ADONIS,
won the 2000 Tennessee Williams Literary Festival One-Act Play
Award, and was performed as part of the 2001 Festival in New Orleans.
It was also performed along with THE DEAD POET, a one-act about
Shakespeare and Marlowe, as part of an evening entitled DEAD
POETS in January 2003 (Omaemoda Productions, Washington, D.C.).
SCHRÖDINGER'S GIRLFRIEND, a comedy about subatomic physics,
was given staged readings by Ensemble Studio Theatre at both the 1999
and 2000 First Light Festivals, opened the Magic Theatre's 2001-2002
season in November 2001, and was produced in the spring of 2003 at
the Act II Playhouse in Ambler, PA. DONNA PARADISE, a comedy
about marriage, was produced in November 2002 at the Phil Bosakowski
Theatre in New York by Double Helix Theatre Company. Double Helix
also produced a one-act entitled WATER OVER THE BRIDGE as part of
an evening of flood-myth-related children's plays entitled (appropriately
enough) FLOOD in June of 2004. MONKEY'S UNCLE, a comedy about
the evolution debate, was commissioned by Ensemble Studio Theatre in
2005 as part of their Sloan Project, and was given readings at EST's First
Light Festival in 2005 and 2006.
A member of the Dramatist's Guild, Matthew is also responsible for the
script (but not the voice-over) of the children's movie STARLIGHT; and
partially responsible for the book of the 1985 Off-Broadway musical
HAMELIN. He was the winner of Slate's Significant Objects competition
this year, and 21 of his Manhattan Sonnets can be heard on the New
River Dramatists archive on Art International Radio. Published works
include the short-story version of "The Auschwitz Circus," which was the
cover story of the June 1996 issue of the Magazine of Fantasy & Science
Fiction, and various rants, skits, poems and observations, all of which can
be found at his blog, A Likely Story: matthewslikelystory.blogspot.com.