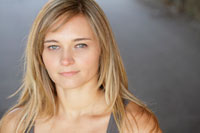 KYM BERNAZKY
Kym Bernazky (performer) earned her BFA in Drama from New York University studying acting at Circle In The Square Theater School. Kym served as the Artistic Director and Head Writer of Six Characters- an experimental, silent-comedy vaudeville troupe. Six Characters created three unique theatrical shows, several short films, and a television pilot over a ten year period. Their work has been seen/produced at Theatre For the New City, Chernuchin, Todo Con Nada, Collective Unconscious, The Kraine Theatre, The Pure Pop, New York and Orlando Fringe Festivals. Their film work has been screened online, at several film festivals including the New York Independent Film Festival, and in a documentary about pie throwing.
Six Characters Cometh earned the group the "Best Ensemble Of The Year" Award from the Off-Off Broadway Review in 2002. Six Characters: Best Show Ever! earned a glowing review from the New York Times. Most recently, Kym has trained with SITI Company and has been an ensemble company member of Synaesthetic Theater. She is the artistic director of Collision Productions.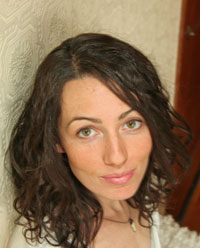 MELANIE JONES
Melanie Jones (performer) is a writer, producer and performer. She is the author of three published non-fiction books and four produced plays. Her second one-woman show, ENDURE is about marathon running and will premiere in NYC in Spring 2011. Recently relocated to New York, she creates experimental theater works with Kym Bernazky through their newly formed company Collision Productions. In her native Canada, she wrote, performed and co-produced more than 50 segments for CityTV's Breakfast Television and Your City. She worked on many theater creation projects for One Yellow Rabbit's High Performance Rodeo and Swallow-A-Bicycle Theatre Collective. Her writing projects have taken her all over the world, including travel to Zambia, India and Haiti for 'Waves of Change,' an international photo-story documentary about clean water. She holds an M.A. in Dance from York University and performed as a contemporary dancer throughout Canada. She also trains with SITI Company in New York in Viewpoints and Suzuki Method.